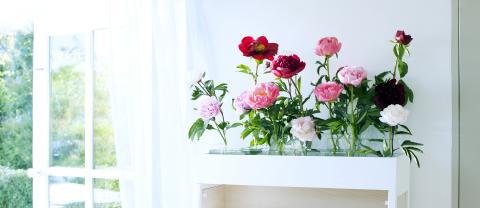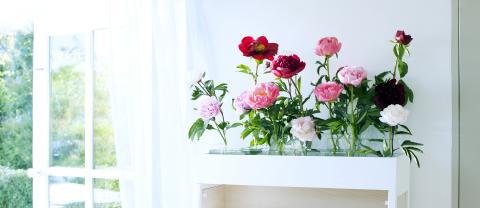 When peonies are cut too raw, the bud will not open. When you purchase peonies it is important to choose peonies where the bud is already slightly open and you can already see a trace of the colour. In your shop, peonies should be conditioned in a solution of Chrysal Professional 2. This ensures that they are kept in good condition, but don't open too much. The flowers will have a longer shelf life and this reduces waste. For flower arrangements in floral foam or vases use Chrysal Professional 3. This enables the flowers to open fully and to stay beautiful longer, up to 60% compared to water.
It's peony season, hence it's our Flower of the Month for June (courtesy of The Flower Council of Holland). These flowers have an undeniable charm and elegance, coming in many colours and shapes. The Peony symbolises abundance, love, happiness and health. With the proper care, you can enjoy these large, special flowers even longer. It's all about the right timing and the correct care! We have a couple of tips for you to enjoy these beautiful flowers as long as possible.
Tips for florists
Tips for consumers
Re-cut peonies 2-3 cm with a clean, sharp knife or secateurs before putting them in a clean vase with fresh, cold, tap-water and Chrysal Universal flower food. Flower food will allow the peonies to fully open and helps to maintain their colour. Don't forget to remove the leaves from the stem, so that they are not in the water. Keep flowers away from ripening fruit, drafts and direct sunlight. Top the vase up as necessary with more water and additional flower food.