Create your own flower food sachet
28 June 2017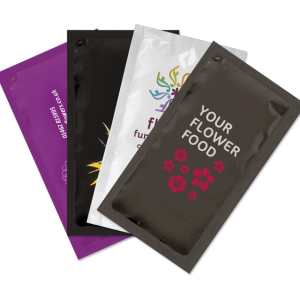 Getting noticed and getting your name "out there" is critical in today's highly competitive market.  That's why Chrysal have recently introduced their Customised Sachets
Customised sachets from Chrysal cost from as little as 10pence a sachet – a small price to pay to have your beautiful designs last up to 60% longer versus water alone!  Minimum order quantities are low too at just 2,000 sachets, and have an 18 month shelf life. 
The sachets are produced in the trust-worthy Chrysal Universal powder formulation for one litre of water and are suitable for use with all cut flowers. Whether it be your business logo or a special event you wish to promote such as Valentines or Mother's Day, Chrysal customised sachets give you the option.  Simply send your artwork details to sachets@chrysal.co.uk and we'll do the rest for you.  Later in the year, following some final fine-tuning there will be an online tool which offers templates to select or if you have something more specific in mind, the freedom to let your imagination run wild, but wait no longer and contact the Chrysal UK office on 0113 3074050 or email sachets@chrysal.co.uk.
Create your own design here today!