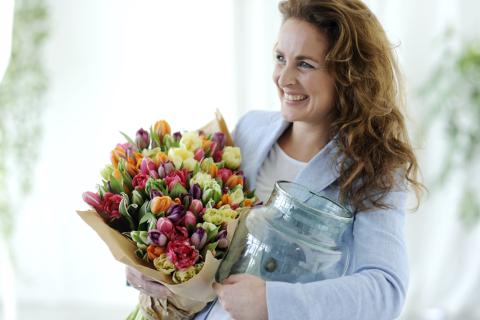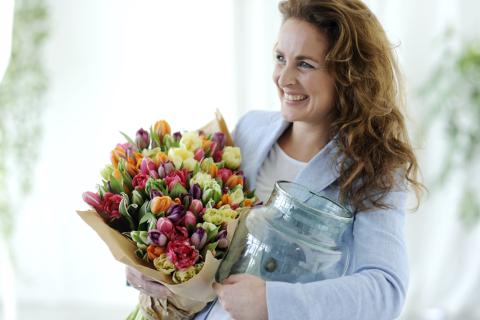 Everyone loves tulips. They have Spring written all over them and are truly a flower that makes people happy. There are many different kinds of tulip with an enormous range of colors and shapes: from single to double, to crown shaped and fringed.
The trick is to combine the various kinds, or mix it up by adding other flowers. The latter can be quite a challenge, since the tulip is well known to grow faster than other flowers in a bouquet. To minimize this problem, we would suggest you buy tulips that have been treated with Chrysal BVB & Plus, which reduces the growth of the stem. A good postharvest treatment with Chrysal BVB & Plus also keeps the leaves firm and green, and keeps the stem from bending. In addition, it prolongs the vase life and improves the quality of the flowers and leaves.
Tulip care tips for florists
Fresh, clean, cold tap water with the inclusion of a conditioner such as Chrysal Professional 2, is very important for tulips. This allows for a longer shelf life and ensures that the flowers develop well while preventing the flowers from opening up too much.
Tulip care tips at home
Cut the stem 2-3 cm with a clean, sharp knife or scissors.
Place the flowers in a clean vase with fresh water and use Chrysal Clear Tulipa or Chrysal Clear Bulbosus flower food in the correct dose. This will keep the leaves firm and green, the flowers will keep their beautiful colors better, and the tulips will last much longer.
If the tulips are bent, leave the tulips wrapped in paper or foil for about an hour. This will straighten up the stem.
Place the flowers in a cool place and keep them away from sunlight and drafts.