Don't cut corners … Cutting edge quality with Chrysal
08 November 2016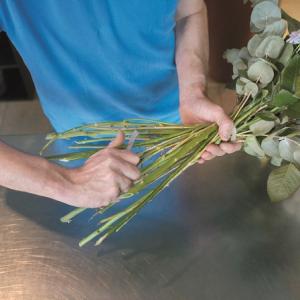 Flowers than you can enjoy for a long time; that's what everyone wants.  So don't take any chances and give your flowers plenty of love and care – and make sure you use a clean, sharp knife!
Why is it so important to re-cut flower stems? Flower stems quickly fill up with bacteria and pollutants after the growers cuts the flowers from the plants.  This decrease water absorption. By re-cutting the flower in the shop and placing the flowers in clean water with Chrysal Professional 2, the flower can continue to develop naturally. What more could you ask?
The cut surface is easily plugged by micro-organisms. The bottom part of the stem can also dry out if the flowers are temporarily dry for example, if the flowers have drunk all the vase water, or simply when transporting the flowers from the shop, home. Always re-cut the flowers again so that the stem ends remain clean and fresh. This is a good starting point for a long vase life and longer lasting enjoyment. Removing between 2 and 5cm from the stems at a 45° angle is usually sufficient.
Studies show that recutting the flowers, combined with the use of clean water and Chrysal Professional 2 or flower food will extend vase life considerably. Following this tried and tested method is your best guarantee for longer lasting flowers.