Calla care tips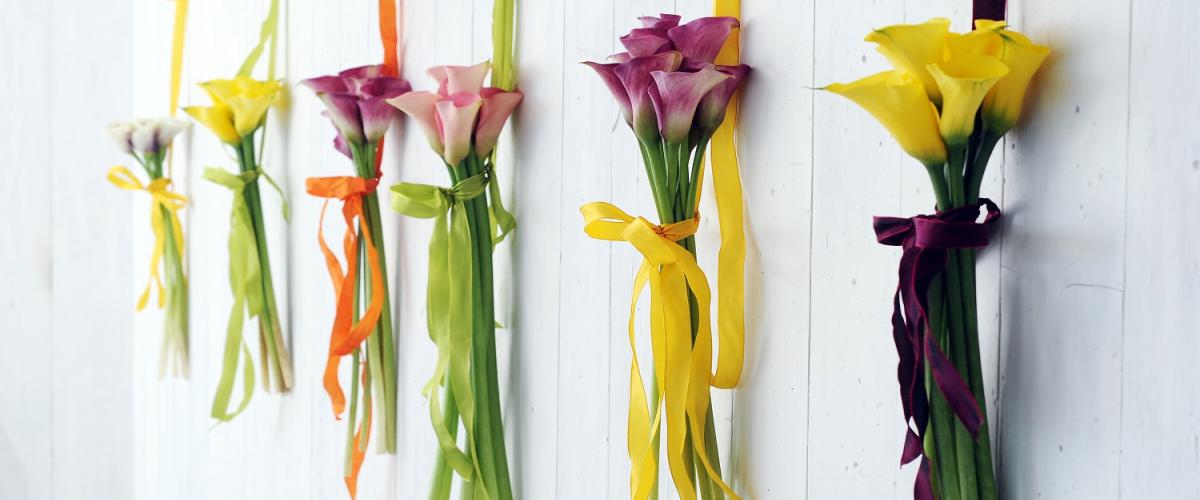 May's flower of the month is the Calla, a flower which stands out in style, simplicity and beauty. The Calla comes in many colours; white, red, yellow, pink, orange, green, black and multi coloured. The most notable aspect of the Calla is the beautifully shaped spathe. This is also the reason the Calla is considered a lucky flower. The Greeks and Romans associated the flower with festivities and enjoyment, because the shape of the bloom resembles a goblet used for drinking. Although many centuries have passed since then, the Calla has always retained this meaning.
Source: Flowercouncil
Care tips for florists
The Calla is very sensitive to pollution and that is why good hygiene is important. Do you want your customers to enjoy your Calla's even longer? We have the following care tips for you:
Make sure you use disinfected tools and clean your buckets and vases with Chrysal Professional Cleaner before use.
Put the flowers in a solution of Chrysal CVBN and water.

Cut, if necessary, the stems a little and remove any stems that have become slimy.

Don't place your flowers in a draught, in direct sunlight or near a source of heat.

They are also sensitive to ethylene gas. Don't place the flowers near fruit or vegetables.
Did you know the Calla really looks good in a bridal bouquet? Use Chrysal Glory to keep the bouquet beautiful during this important day. Chrysal Glory provides a shield to reduce evaporation, keeping the flowers and leaves beautiful without any water.
Care tips for consumers:
Did you receive a bouquet with Calla? We have a few care tips for you, so you can enjoy them longer.
Always use a clean vase

Pour the contents of the Chrysal Universal liquid stick into the vase mixed with the right amount of cold fresh tap water

Cut 2 – 5 cm off the stem.

Put the flowers in the vase.

Refill the vase if necessary with water and Chrysal flower food.

Keep the flowers away from draught, direct sunlight and ripening fruits.

Enjoy your bouquet!