Navigating a sustainable future: Chrysal expands its services for sea freight of flowers
25 May 2023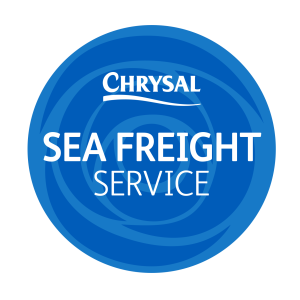 Keeping flowers fresh during transport and reducing the environmental impact is one of the main challenges in the floral industry. At Chrysal, we have a deep understanding of the challenges and solutions for flower care, and sustainability comes first. A new state-of-the-art testing facility and realtime data platform in Chrysal Africa will enable growers, importers and retailers to streamline their operations while ensuring high-quality cut flowers are delivered to their customers in a sustainable way.
In 2019, Chrysal introduced the market's first registered and effective anti-Botrytis post-harvest treatment for roses, paving the way ultimately to long storage of flowers. Following the success and wide adoption of this treatment, the company launched its Sea Freight service in 2020, enabling the shipment of roses from Kenya by sea. Studies show that transporting flowers by sea can lower the carbon footprint by as much as 92% versus air. The service quickly gained traction, and at times, allowed for an estimated 10% of Kenya's total rose production to be shipped via sea.
A new state-of-the-art testing facility will be launched in Chrysal Africa in June, featuring a vase life room and four controlled atmosphere chambers. These chambers will enable extensive research and testing to determine the optimal oxygen and CO2 levels per crop for long storage and sea freight, giving growers the opportunity to test the best conditions for their flowers to reduce flower wastage and ensure the best quality.
In addition Chrysal will be launching a data platform, as part of their service designed to support all processes within the company and provide real-time quality data points to customers, including farms, importers and retailers. This platform will offer transparency and insights into the entire journey of cut flowers, from harvest and processing to trucking and overseas shipping in containers.
"At Chrysal, we remain committed to delivering innovative solutions that benefit the entire floral industry, with a focus on sustainability and reducing the environmental impact. Chrysal Services, with its state-ofthe-art testing facility, and data platform, all contribute to that more sustainable, efficient, and transparent supply chain" said Niels van Doorn, General Manager Chrysal Africa.
The expansion of Chrysal Services will be presented during the IFTEX in Kenya from June 6th- 8th . For more information about Chrysal Services and its upcoming innovations, please contact Redbad Verduijn (+254799117343).