Contribute to environment with Chrysal sustainable sachets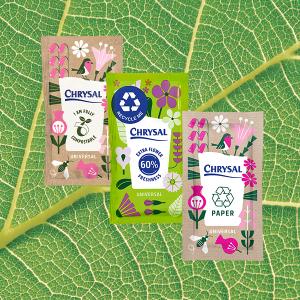 Reducing the use of plastic and promoting a circular environment is a key pillar in our Chrysal Cares program. Therefore we have 3 sustainable flower food sachets: Chrysal Compostable sachet, Chrysal Recyclable sachet & Chrysal Paper sachet. This brings us one step closer to a circular economy. We fill our sustainable sachets with Chrysal Universal flower food, which keeps your flowers beautiful up to 60% longer. All of these sachets come in a modern design in line with our new branded flower food packs.
Chrysal Cares
The growing challenge of plastic in the environment means it is more urgent than ever to find solutions to reduce, re-use and recycle. We want to be a sustainable partner in the flower industry. Reducing flower wastage, water use and packaging materials thus integrating sustainability in our strategy. We contribute to a circular economy in which we not only use less plastic, but the plastic we do use can either be re-used, recycled or composted.