Practical sea freight training - Register now
14 April 2022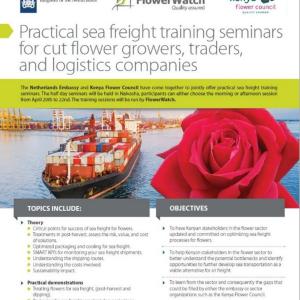 As part of an initiative by the Dutch Embassy in Kenya, Chrysal has been invited to offer a practical sea freight training seminar. Developing sea freight for flowers is an important step in reducing the carbon footprint in flower logistics and transitioning to a sustainable supply chain while creating jobs and increasing income for farmers in the Kenyan flower industry.
Chrysal will provide a practical demonstration on how to treat flowers for sea freight so that waste is minimized and the quality of flowers is ensured using our Rose Dip Service.
Register for the practical sea freight training for flower growers, traders and logistic companies 20-22 April 2022 in Naivasha Kenya through billy@flowerwatch.com.