How can you give a mixed bouquet optimal vase life?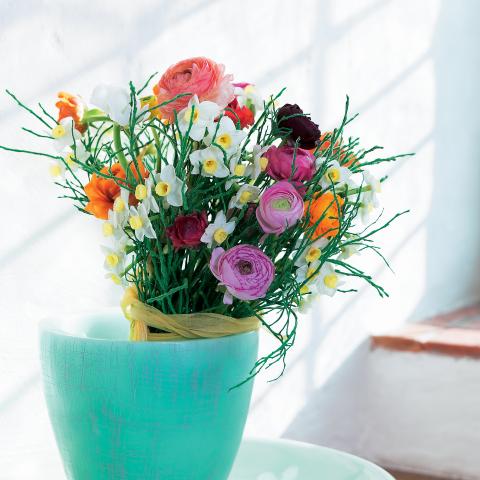 How can you give a mixed bouquet optimal vase life?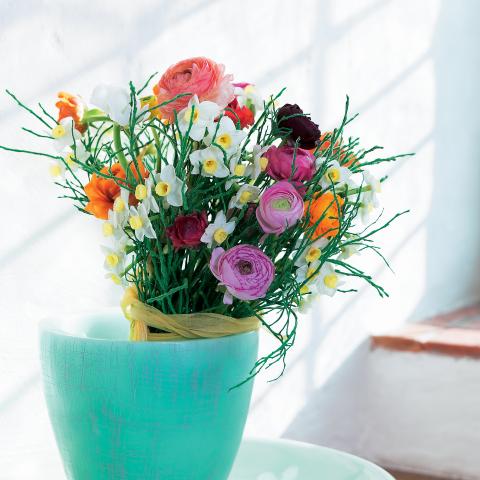 Flowers are harvested during various stages of 'ripeness', depending on market demands. Gerbera and Chrysanthemum seem as though they are 'further along' when they are in a mixed bouquet with flowers such as Carnations or Tulips. Flowers that have been harvested while they were still in the 'bud stage', such as Rose, Gladioli or Eustoma, appear to need more nutrients in order to fully develop.
Therefore try to purchase and mix flowers in an arrangement in an even a maturity stage as possible, and add the right conditioning product and flower food.
How can you use Narcissus in mixed bouquets?
Narcissus are appreciated for their clear and welcome colors in late-winter and early spring. That is why Narcissus is often sold as a cut flower, either in a mono bouquet or in mixed bouquets with Tulips, Anemone, Iris, Freesia, etc. Narcissus secretes slime from the stem after cutting. When Narcissus are mixed with other flowers in a bouquet, this may cause damage such as brown leaves, burnt leaves and flowers. Here are some tips to prevent damage from Narcissus slime:
For conditioning phase (retail):
Isolate Narcissus for a day. The Narcissus slime is secreted primarily during the first hours, up to one day, after cutting the stem. By not cutting Narcissus or keeping it separate for a day after cutting, the slime problem is largely prevented .
Cut other flowers before cutting the Narcissus, so that no slime is transferred by the knives or secateurs being used.
Use Chrysal CVBN tablets.  These products neutralize the 'toxic' Narcissus slime for other flowers until the time at which the stems are re cut.
For consumer phase:
Add Chrysal Clear Bulb Food.