Chrysal Africa launches state-of-the-art testing facility
06 June 2023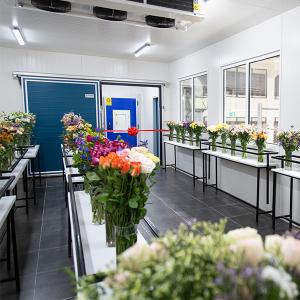 Chrysal Africa, the leading supplier of post-harvest treatments and flower care products, celebrated the inauguration of its cutting-edge testing facility today. The event was graced by the attendance of key figures including the Ambassador of The Kingdom of The Netherlands to Kenya, Mr. Maarten Brouwers, CEO of the Kenya Flower Council, Clement Tulezi, representatives from CMA CGM and Maersk, influential growers, major flower importers, and other relevant industry partners.
The facility's launch signifies the strategic partnership between Chrysal, the Kenya Flower Council, and the Dutch Embassy, with a mission to evolve sea freight of flowers from Kenya in the coming years. The facility is equipped with state-of-the-art controlled atmosphere chambers and an innovative data platform, enabling extensive trials and data mining to determine optimal treatment parameters and controlled atmosphere settings for any flower on any given day.
The event was met with great enthusiasm, and the innovative concepts will be explored further during the upcoming International Flower Trade Expo (IFTEX). For additional information about Chrysal Services and its forthcoming innovations, please contact Redbad Verduijn (+254 799 117 343).