Chrysal introduces FreshPaq: the convenient fresh packaging for tulips
19 January 2017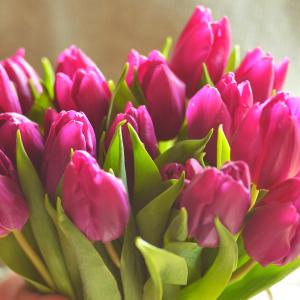 With FreshPaq, Chrysal has the solution to keep your tulips fresh and enhance their quality without the risk of spillage in store, no wet stems and water dripping during transport. FreshPaq is the new and convenient fresh packaging solution and offers retailers and consumers the end of 'free water' and lots of benefits. During the IPM this January, Chrysal will be introducing the FreshPaq. Free sample packages will be available to visitors who would like to see for themselves the benefits of FreshPaq. 
Displaying, selling and then transporting fresh flowers can be a problem due to the presence of, "free water" sloshing around.  You need it to keep your flowers hydrated in store or during transport but this can lead to a risk of spillage in store and dripping and wet stems during transport and of course the risk of Botrytis. Not only is free water with your flowers a challenge for you, but also for your customers. They also face wet, dripping stems during transport home or to friends and family. Now Chrysal has the solution! FreshPaq is the new and convenient packaging which keeps your tulips hydrated without the need of water. This makes displaying the tulips in store and transport so much easier. The packaging is also particularly suitable for online sales. Tulips sold in FreshPaq will remain fresh for three days. After the purchase the flowers stay fresh for another 24 hours. This gives your customers additional time to get the tulips to their final vase destination, making FreshPaq the ideal packaging solution for gifts. 
The effects and benefits of FreshPaq:
Keeps tulips fresh without water.
No more water in store, eliminating risk of spillage. 
Easy to handle for consumers. 
Tulips remain fresh for three days. 
Reduced transport costs due to absence of water.
Suitable for online sales. 
We have various point of sale presentation possibilities available, one of which will be on display at IPM in January 2017. Do you need another solution or more custom made alternatives for your presentation of FreshPaq? We are happy to inform you of all such possibilities at our stand 1D12.30 at the IPM in Essen.