New: Chrysal FreshLiner
27 October 2016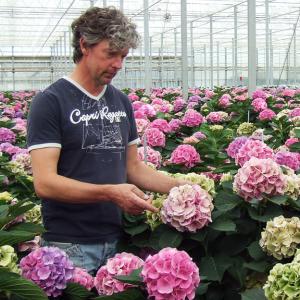 The current working method for transporting Hydrangeas is labour intensive & costly. Small bags of water are attached by hand before the Hydrangeas travel for several days. Mostly the water from the small bags leaks, causing damaged boxes, a higher risk of Botrytis and dehydrated Hydrangeas upon arrival. Now Chrysal introduces a solution to make the transport of the Hydrangeas easier and cheaper. With the Chrysal FreshLiner attaching small bags of water isn't  necessary for ensuring fresh flowers and firm leaves.
The Chrysal FreshLiner is a modified humidity packaging that can be used for long distance transport by growers or international transport companies. The use of the Chrysal FreshLiner is easy and convenient: place the bag in the transport box before placing the flowers inside. Then put the Hydrangeas in the Chrysal FreshLiner and fold it so it will be closed. Close the lid of the box and the Hydrangeas are ready for transport. Transporting the Hydrangeas without 'free' water ensures a lot of benefits: 
Transporting Hydrangeas without 'free' water lowers the risk of Botrytis
Guarantees fresh flowers and firm leaves upon arrival.
The boxes remain dry, clean and sturdy throughout the transport.
It will lower costs due to the reduced transport weight. But most important is that it will reduce the risk of Botrytis.
During the IFTF the Chrysal FreshLiner is introduced. Please visit our stand at the IFTF B2.41 & FHTF stand 21.10-21.12