Chrysal introduces sustainable flower food sachets
30 May 2019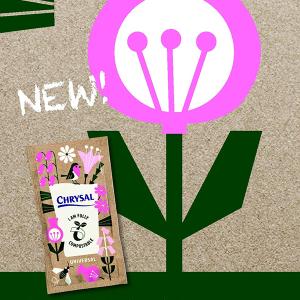 We have all seen the headlines about the huge environmental problems caused by single use plastic. Chrysal is now introducing a sustainable flower food sachet - Chrysal Compostable. This powder sachet is made of industrial compostable material. This means the packaging is compostable under high temperatures and will result in a valuable reduction of plastic waste.  
Peter Vriends, Chrysal CEO: "Our goal is to make our packaging sustainable through the Reduce, Recycle and Re-use principle and to contribute to our CSR goals and those of our customers. We are looking at all of our packaging and one of the steps we are taking is introducing the first sustainable flower food sachet".  The sachets are composed of industrial compostable material of plant material. This means the sachets are biodegradable. Chrysal Compostable flower food sachets contain our Chrysal Universal flower food (powder) that keeps flowers beautiful up to 60% longer.
The compostable packaging is a first step towards environmentally friendlier alternatives to our current packaging. We are testing several alternatives to increase sustainability and to reduce packaging materials. Sustainability is an important topic for Chrysal and we are developing multiple initiatives to contribute. Recently we placed 900 solar cells on the roof of our head office in Naarden, the Netherlands. A big part of our energy is now from a sustainable source, reducing 165.000 kg CO2 per year. Additionally we are supporting local communities in the countries in which we operate as well as running projects and activities to reduce our impact on the environment.
Chrysal Flower Food
We offer several products to keep your flowers beautiful even longer. Our well known Chrysal Universal flower food keeps your flowers beautiful up to even 60% longer. It stimulates the bud and flower development and keeps leaves and stems firm and green. Give a sachet of Chrysal flower food with every bouquet you sell. 
If you are interested in testing our new sustainable packaging or for further information, please contact your local sales representative. A product sheet can be downloaded here.