Chrysal LeafShine & Seal wins Favorite New Product at TPIE
23 January 2019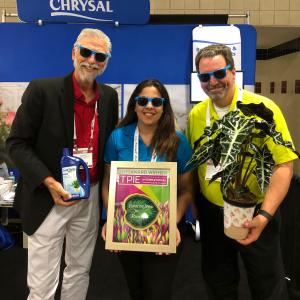 The exhibits at TPIE (Tropical Plant International Expo) were filled with "high - definition" plants treated with Chrysal LeafShine & Seal.   Chrysal Leafshine has been a favorite to all plant and flower enthusiasts for decades but the new formula of LeafShine & Seal is quickly becoming a fundamental product to floral and plant professionals.  Industry professionals voted and awarded Chrysal LeafShine & Seal as the Favorite New Product at TPIE.
With heightened plant interest and the stigma of keeping plants alive, Chrysal LeafShine & Seal does more to impress and promote plant sales than traditional promotional materials. 
The new improved formulation of Chrysal LeafShine & Seal was developed to reduce transpiration of plants during the transport and store phase, resulting in healthier looking plants and more attractive sales displays. As its name suggests, LeafShine & Seal also,provides an instant, natural sheen removing dust, mildew and hard water stains.
When combined with Chrysal Aqua Pad which provides a natural reservoir for water, plants look and far outperform untreated plants.