Chrysal and Syngenta Flowers introduce Largo®
10 June 2022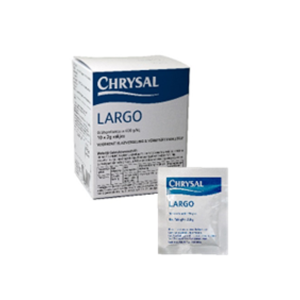 Spray application to help extend the ornamental value of pelargonium at retail 
Pelargoniums are sensitive to darkness. Unfortunately, this is also unavoidable, for example during transport or at retail. A prolonged period of time in the dark leads to leaf yellowing and petal drop. To fight this, Chrysal and Syngenta Flowers have combined forces and introduce Largo®, a unique and effective product to prevent leaf yellowing and petal shatter. It makes the quality of the plant less dependent on the conditions during transport and to making them stay beautiful longer, thus extending the sales period and reducing waste. Combining Chrysal's post-harvest technical and product knowledge with Syngenta Flowers' world-renowned expertise on genetics, this partnership is to bring more sustainability to the value chain. 
Chrysal, the global leader in potted plant and flower care, and Syngenta Flowers, a global leader in crop genetics, have combined their knowledge to introduce a unique spray application plant care treatment, Largo®, which will allow for significant waste reduction in the chain. Largo® is registered for the use on potted plants. Largo® prevents leaf yellowing and petal drop in Pelargonium, both the most common factors of waste. Research by the German Hochschule Geisenheim University in collaboration with Chrysal shows that the purchase intention of plants is 40% higher, if a potted plant looks fresh and healthy on display. And not surprisingly, consumers are more likely to recommend a store with fresh and healthy plants.
 
"Chrysal is committed to offering innovative solutions for the horticultural supply chain, from growers to consumers. Together with Syngenta we want to help growers and retailers to get the best quality plants. We are excited to introduce our new product Largo®," says Peter Vriends, CEO of Chrysal International, the worldwide market leader in flower food and post-harvest flower and plant care. 
Sandra Verlaat, Head of Marketing Syngenta Flowers Europe adds: "Syngenta Flowers brings the best genetics to our growers. In order to be even more successful, we truly see value in partnerships as we now have with Chrysal. It is an example of a great collaboration and allows to combine the strengths from both companies and help our growers and retailers continuously deliver quality plants." 
Largo® helps Pelargonium during transport and it extends the sales period at retail. It prevents leaf yellowing, flowers can keep their beauty longer and it reduces waste. This will ultimately lead to more satisfied consumers. 
Would you like to know more about Largo®  get in contact with Edwin Zuidgeest to explain the model.