Chrysal introduces new colours for Trend Selection
24 November 2016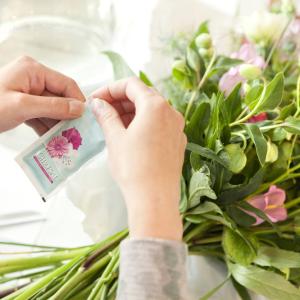 Chrysal is proud to present the new colours for it's Trend Selection line, introducing Bronze Glamour and Fresh Sea. Two colours that fit the latest styles and trends. Below you can see our complete offering.
Inspiration
We admire your creativity, dedication and love for flowers. We share this passion with you and would love to support you not only with our care products but also with inspiration. This is why we have put together a booklet that shows you the latest styles and trends. We combined fashionable colours with matching flowers, creative arrangements and show you ideas for materials which you could use to create floral art. Here you can find the booklet.
About Chrysal Clear Trend Selection
Chrysal Clear Trend Selection ensures customers can enjoy the flowers up to 60% longer compared to water alone. It mixes easily and clearly in water and is odourless, providing all the necessary ingredients for full development of buds and blooms. Acurate dosing is essential for maximum satisfaction. We recommend that you provide the right care tips to your customers and add several packs of flower food for larger vases and for topping up the solution. The Trend Selection is available as powder as well as liquid formulas and in 5 trendy colours to match with your bouquet.