Chrysal supports Loneliness Awareness Week and Grandparents' Day
02 October 2023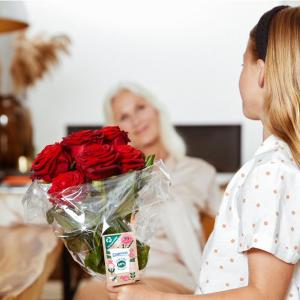 During the Loneliness Awareness Week, from September 28 to October 4, 2023, meeting and connecting are the focus. As part of this week, Grandparents' Day will be celebrated on Sunday, October 1. A flowery day to give extra attention to all grandparents in the Netherlands and connect generations. Gerda Lenten Havertong has been appointed ambassador of Grandparents' Day.
Ambassador
Theatre maker Gerda Lenten Havertong supports Grandparents' Day: "It is essential that young and old people look after each other. We can give and teach children so much. Conversely, we also receive a lot in return. By connecting generations, we can make the world more social and beautiful again. I invite everyone to take action!" Gerda Lenten Havertong can be heard, among others, in an animation video made especially for Grandparents' Day.
Activities with flowers
In the run-up to October 1, various activities with flowers together with and for children and the elderly will be organized. These include after-school care, care homes, and a festival in Almere, the Netherlands. At Humanitas Residential and Care Centre in Deventer, the kick-off took place on Thursday, September 28, and at Partou Kinderopvang (children's daycare), a national organization with around 700 branches, children made flower decorations for grandparents. The flowers for the action, colorful spray roses, were provided by growers of World of Sprayroses. Willemsen Flowers from Apeldoorn, Coloriginz from de Kwakel, Oasis, and Chrysal were also supporting the flower workshops.
Origin
Grandparents' Day is a festive day of connection between generations and originates in Italy. Initiator Charles Lansdorp: "The foundations were laid in Italy in 1997 with an educational flower project at primary schools, including a drawing and poetry competition for children aimed at grandparents. This proved such a success that it grew into a special day for grandparents. In 2005, Grandparents' Day (Festa dei Nonni) was officially recognized by the Italian parliament."
Against loneliness
Grandparents' Day is celebrated in 'Loneliness Awareness Week,' an initiative of the Ministry of Health, Welfare and Sport. The Grandparents' Day Foundation is a member of the Coalition to End Social Isolation & Loneliness, in which companies, civil society organizations, and government agencies join forces to reduce loneliness among the elderly.
More information can be found at www.eentegeneenzaamheid.nl and www.grootouderdag.com.