Start of the Horti Sustainable Packaging Initiative
07 July 2023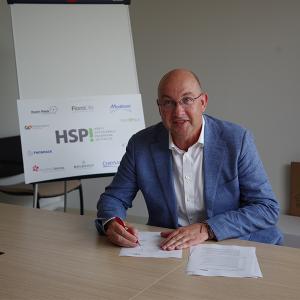 On Tuesday, July 4th, 10 packaging manufacturers and suppliers signed the declaration of intent for the Horti Sustainable Packaging Initiative at Paardekooper Horti. The signatories aim to jointly accelerate the sustainability of packaging and actively contribute to the future of the ornamental horticulture sector.
A year ago, the participating companies were challenged by the Dutch Flower Group to explore how they could collaborate, following the example of the Floriculture Sustainability Initiative (FSI) co-founded by them in 2013, to work towards the sustainability of the ornamental horticulture sector. The ambitions of the Horti Sustainable Packaging Initiative (HSPI) have been gradually shaped through a feasibility study, consulting a variety of expertise from both within and outside the ornamental horticulture industry. The focus lies on three themes: supply chain transparency & certification, circularity in materials and packaging, and life cycle assessments.
Higher requirements regarding the use of packaging are coming from consumers, governments, and the ornamental horticulture supply chain. With this awareness, the participants of the HSPI have set goals that go beyond legislation and ambitions, seeing collaboration within the supply chain as the key to achieving them. Marcel Zandvliet, CMO/CSO of the Dutch Flower Group, who was present at the signing, also emphasized the importance of further collaboration in the packaging sector to make a global impact in terms of sustainability and standardization.
Chrysal International CEO Remko Muntinga signed the declaration of intent. Greenport Aalsmeer will provide independent leadership to the program. Gido Oude Kotte, Chairman of the Greenport Aalsmeer Foundation and Mayor of Aalsmeer, also added his signature to the collaboration. He hopes that the signatories, through the Horti Sustainable Packaging Initiative, will collaborate on real innovations to give the ornamental horticulture industry a sustainable future worldwide. In the coming period, the parties will work on developing an action plan for the upcoming years, with the aim of implementing various projects.