Visit Syngenta during the Flower Trials 2019
06 June 2019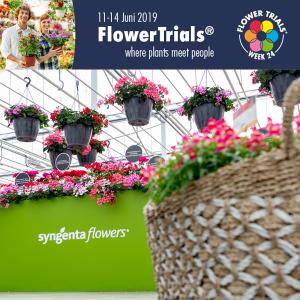 The FlowerTrials 2019 will be held from the 11th till the 14th of June. An event that involves 62 breeding companies in the Netherlands, from 3 different regions. These companies will open their doors for visitors and show them their latest innovations and future developments in pot and bedding plants.
Syngenta Flowers from Enkhuizen kindly made it possible for us to participate. At Syngenta we will show you our most recent innovations in care for pot plants. You can expect the following products from us:
Chrysal Ethylene Buster sachets (available this August)
For more information, visit the FlowerTrials-website. We hope to see you at Syngenta Flower (Noordlierweg 14, 2678 LV De Lier) during the FlowerTrials 2019!
About Syngenta
Syngenta Flowers is a leading global company in the pot- and bedding plants market. We produce seeds, cuttings and young plants that fulfill grower's and retailer's needs. 2,300 passionate people bring color to the world with innovative varieties in a broad range of crops. As part of Syngenta, a global company with a strong focus on the seeds business and breeding, we have access to leading breeding technologies. We create value for our customers by creative collaborations with strong partners. To learn more visit www.syngentaflowers.eu.