How to protect Phalaenopsis against Ethylene
18 August 2017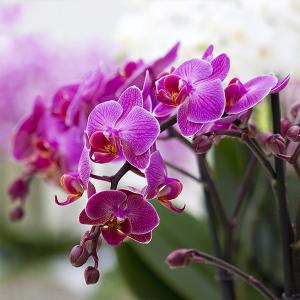 The Phalaenopsis belongs to the orchid family (Orchidaceae) and originates from the tropical rainforests in Asia, New Guinea and Australia. Nowadays the Phalaenopsis can be found in many living rooms too. Mainly because of its beautiful flowers, but also because it is a very low maintenance and extremely durable plant.
Regrettably it is the flowers that are quite sensitive and most of us have experience with buds dropping off. But what causes this? Usually a plant drops its buds to protect itself against dehydration. It can also happen because of an abundance of Ethylene, a gas that stimulates aging of plants and flowers. The plants are even more sensitive to Ethylene damage with higher temperatures and higher concentrations.
Ethylene has two types of sources:
External
Examples of external sources of Ethylene are exhaust fumes of combustion engines, fumes produced by industry and tobacco, certain kinds of vegetables, fruits and micro organisms.
Internal
Plants produce Ethylene themselves too. The amount they produce all depends on the circumstances. In situations of stress, orchids produce more Ethylene. Stress can be caused by:
Movement/transport
Water shortage
Lack of light
Temperature fluctuations
Too high/low temperatures
The ideal environment for the Phalaenopsis has a temperature between 15-25 degrees Celsius, plenty of light, no draughts or air flows and plenty of water available.
Tips to protect orchids from Ethylene in the summer
It is well known that orchids have no love for cold, but the fact that high temperatures can also cause damage is not as obvious to a lot of people. A temperature above 25 degrees Celsius causes stress for orchids, leading to a higher internal production of Ethylene. By using Chrysal Ethylene Buster (a post-harvest product used by growers), the Ethylene receptors of the plant are blocked, protecting it from harm from both internally and externally produced Ethylene. This lengthens the durability of the plant and prevents the dropping of buds, flowers and leaves.