OAT Agrio Ltd acquires Chrysal International B.V. from Nordian Capital Partners
19 November 2018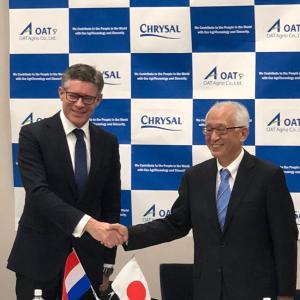 OAT Agrio Japan Ltd (OAT) announced today that they will acquire 100% of the shares of Chrysal from Nordian Capital Partners and management. The transaction is subject to approval by the relevant competition authorities. Chrysal is the worldwide leader in high quality care for flowers and plants. Chrysal has extensive knowledge of both the horticultural chain as well as the different channels-to-market. OAT will help Chrysal to further strengthen their market position by adding new products to the Chrysal portfolio and the development of new and innovative products and concepts. Chrysal's extensive distribution network will enable distributing OAT's products globally.
Chrysal has its headquarters in Naarden, the Netherlands and including its operations in the U.K., France, Sweden, Germany, Russia, Kenya, USA, Colombia, Ecuador, and Japan it employs 235 staff. The company turnover exceeds € 50 million.
OAT is a publicly traded (JPX) Japanese Agro Chemical company with focus on crop protection, fertilizers and biostimulants. Prior to the acquisition of Chrysal, OAT held 381 employees with 30% of the employee base outside of Japan. This is a strategic acquisition for OAT and they will keep Chrysal as their flower and plant care pillar. The Chrysal management team will remain in place and is very pleased to have OAT as a new owner and is dedicated to Chrysal's continued success.  
Peter Vriends, CEO of Chrysal International: "OAT will accelerate our growth by adding new products to our portfolio and also has a strong pipeline of innovative new products. It will strengthen our presence especially in the emerging markets in Asia. Chrysal's success is built on a strong local presence and intimate customer relationships in all major flower growing regions in the world. Chrysal excels in technical knowledge and developing solutions for our customers. We're looking forward to the cooperation with OAT and strongly believe our customers will benefit from this new alliance".
The OAT C.E.O. Mr. A. Mori states: "First of all, I am very impressed with the working stance of Chrysal management team and employees to approach their own business. And I think  it is so splendid that they have a complete supply chain from growers to consumers worldwide. I believe that Chrysal is undoubtedly the best company in the world's post-harvest field of flower and plant care. OAT has three technologies: plant protection technology, fertilization and irrigation technology and Biostimulant. OAT can help with the development of new products for Chrysal. In a huge pre-harvest market, I am sure that it is possible to create synergies with each other between the products of OAT and LIDA's (our Spanish group company) and Chrysal's products."