Visit our stand at the IFTF and FHTF
16 October 2023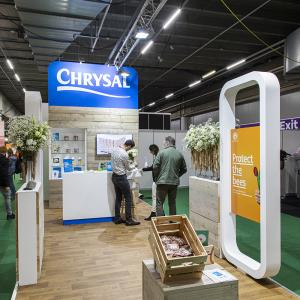 We are very happy to announce that Chrysal will be present with a stand at the IFTF in Vijfhuizen and the FHTF in Aalsmeer. The IFTF is open for vistors 8th-10th November 2023 and the FHTF can be visited 7th-9th November 2023.

On our stands you can find more information about some exciting new features of our Chrysal Sea Freight Service, and also about our sustainability program Chrysal Cares and our line of sustainable sachets.
Exciting new features of our Chrysal Sea Freight Service
The future of transporting flowers is sea freight. Sea freight reduces the carbon footprint by as much as 92% compared to air freight, but comes with many challenges. It is time-consuming and flowers come under a lot of pressure. With these challenges in mind, Chrysal has spent more than a decade developing the Chrysal Sea Freight Service. It is a total solution and a unique post-harvest service concept that keeps flowers fresh and controls Botrytis during sea freight and long storage. 
In addition we will be demonstrating our newly launched data platform, as part of our service designed to support all processes within the company and provide real-time quality data points to customers, including farms, importers and retailers. This platform will offer transparency and insights into the entire journey of cut flowers, from harvest and processing to trucking and overseas shipping in containers. Come by our stands and we will tell you all about it!
We hope to welcome you; fresh coffee is waiting for you at the IFTF (B1.42) and the FHTF (1.28. and 1.29). At the IFTF stand we even have a barista to serve you a wonderful cup of coffee so be sure to check it out!